Alister Ebenezer Hannon –
Alister = meaning "defender of man". But mainly, I just really liked the name.
Ebenezer = meaning "stone of help" referring to when God has Samuel set up stones as a reminder of God's goodness to His people. This was special to me in remembering God's goodness after the death of our daughter Esther. Alister is a wonderful reminded of God's blessing in our lives, even though it doesn't go the way we think it will.
He came into this world a month before we were expecting him. But we were so glad he was here. March 17th my water broke and we were headed to the hospital to meet our little guy. We needed to do some extra monitoring since I was 36 weeks and some other issues. With that, I opted for an epidural. 12 hours after my water broke we saw our beautiful baby boy.  Although he was 4 weeks early, Alister was ready to join us. No health issues at all! He was born at 3:53 pm, a healthy 6#12oz, 20 inches long.
Alister was so alert the moment he was born. And a year later he still is. He loves watching everyone around him. It caused some restless sleeping habits, but we survived.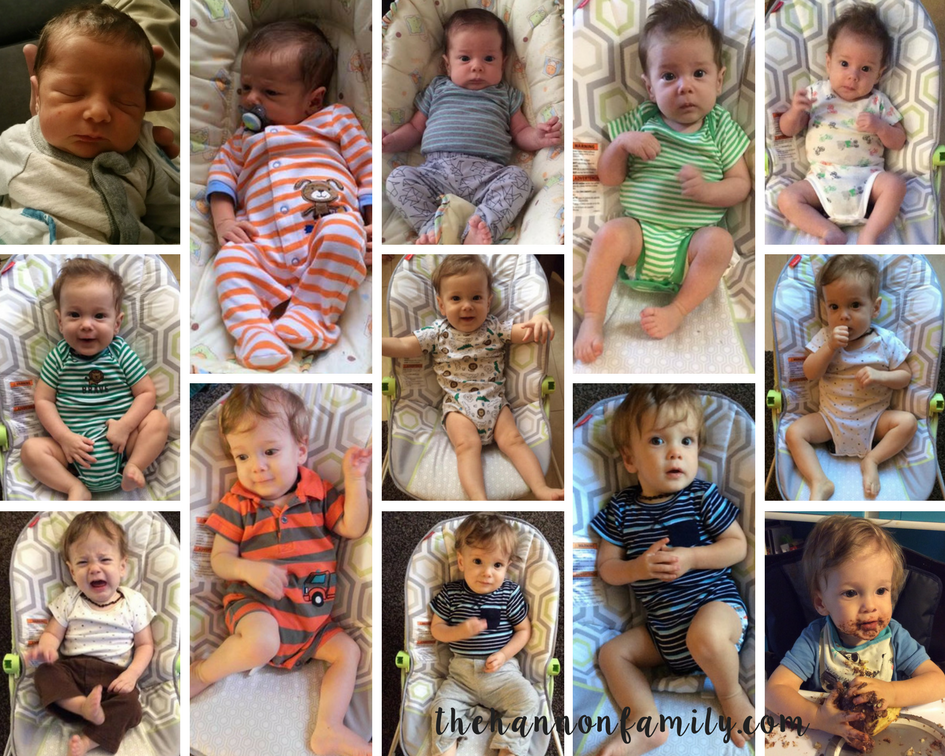 Newborn –
Alister had a rough start, he seemed to have tummy troubles, and couldn't get comfortable to sleep. We had trouble nursing in the beginning, but he was gaining weight well.
1 month – 8lbs 1 oz, 21.25 inches
Still really alert and love to watch his brothers and sister. He loved to sit in his swing and watch them play.
2 months – 9 lbs 11 oz, 22.5 inches
He was getting comfortable sleeping on his belly, and it really helped him have less tummy issues. His naps were getting routine too. While he loved snuggling with mommy through the night, during his naps, he loved to sleep on his own.
3 months –
Sleeping more at night and more on his own. Starting to be smiley and chatty with us.
4 months – 12lbs 3 oz, 25 inches
Tall and skinny, just like his brothers and sister. He is sleeping good. Starting to grab at toys and chew his hands.
5 months –
He is growing every day! Loves to roll over, especially when he should be napping. Drools like crazy and wants to put everything in his mouth. He loves to talk and join in with his own loud noises.
6 months – 13lbs 12oz, 26 inches
He is even more alert. Sleeping 11 hours at night. Still no crawling, which I'm ok with!
7 months –
Happy baby who is so loved! He rolls over both ways now. Up on all fours, but not fully crawling. Loves to talk and put everything in his mouth.
8 months –
He already loves lego's and chases them around the room. We love watching him grow.
9 months –
He now has 4 teeth, loves to make his brother and sisters laugh. He is getting stronger, starting to pull himself up. Climbing on boxes. He still does his little worm move to crawl instead of crawling with his hands. He is starting to eat food.
10 months –
He is getting stronger and has his own ideas about how things should go. He loves to pull his sisters hair. Finally crawls on all fours. Pulls up on his knees, and every once in a while up on his feet.
11 months –
He loves to explore and not stay still. He has 6 teeth. Being a little more consistent about sleeping all night, and we all love him so much!
12 months –
Loved getting to know this boy for a year! His personality grows every day. Looking forward to the next years with him.