I feel like every day Ezra is getting stronger and stronger. Here is a video of him playing around the end of January.
He is doing good but still a little wobbly. You can see it in the beginning, I didn't cut the video's down.
and here he is about 6 weeks later. He is doing so much better. He still needs to get stronger but it is nice to see him improving.
One of our next steps is to turn one of those chairs into a wheelchair so he can get around the house and outside this summer. He will be so stinkin cute!
Ezra continues to have doctor appointments to follow up with his progress. Right now these appointments are just to make sure nothing is wrong, which from what we know, nothing is wrong.
Right now we do lots of PT. Usually 3 times a week. Thankfully 2 of those times they come to my house. We stretch him a lot, working on rolling and just getting him stronger.
Here is Ezra doing some stretching and playing on the Ipad.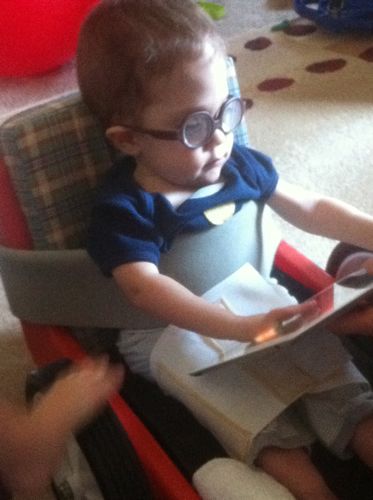 We had a follow up with the eye doctor and they said Ezra looks great with his glasses. He still pulls them down a lot but they say once he relaxes his eyes he will start to prefer them. He gets lots of compliments about how adorable he is. Which he is.
Since his eyes are already starting to straighten out, we don't need to patch one eye to make the other stronger as of now. We will check back in 6 months.
Sorry for the slow blog, it's just there really is nothing new. Just the normal everyday life of my 2 boys growing up.